Circle.so review: The best community management software platform
Why do I recommend Circle.so to create your online community? 
(Note – I wrote this review during early days of Circle.so and sent them good leads but the experience taught me not to trust any SaaS company's affiliate stuff. I only promote those who pay monthly sponsorship fee)
Online communities are thriving, but you should choose a community platform that empowers you with all the features you need to create a successful community. If you wish to launch your own online community, I request you to sign up with Circle.so through the below link.
When you create a community by clicking on the above link, it supports my work. So, I will be pleased to feature your community on my blog when it's launched. Note that I feature all the decent communities that are meant for a general audience.
Video: Circle.so reviews
Why should you try the Circle.so community software platform?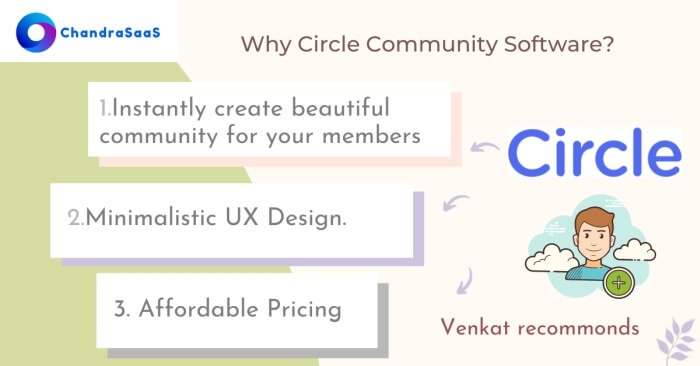 It's crucial to convey why I choose to endorse the Circle.so Community software platform over other options available. So, here are the justifications.
1. Circle.so is affordable.
I looked at a number of different community management software solutions, but none were as reasonably priced as Circle.so was. Yes, it is. I even wrote to the companies that compete with Circle. saying that they should consider lowering the price so that it will be easier for me to promote them, but no one pays attention to what I have to say.
The reason I believe Circle's $39/month price tag is reasonable is because it includes all of the features essential for anyone interested in creating an online community to get started without having to worry about their monthly expenses.
Consider the following scenario: you want to start an online community in a specific field. You can get started with a 14-day free trial and then upgrade to the basic plan.
You could cancel the plan at any time if you chose to for whatever reason. The pricing may increase in the future, but I hope they maintain the current price, which allows anyone in the creator economy to create their own online community.
2. Circle.so Use Cases: Community Software for everyone
I personally believe Circle.so is a right community software platform for businesses of all kinds. It is an ideal community software platform for both enterprise clients who wish to establish a customer community and entrepreneurs who wish to launch their own online community.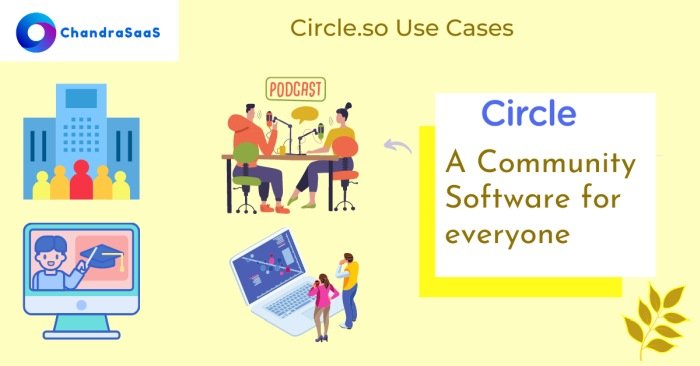 Circle.so use cases for Enterprise organizations
Circle.so software can be purchased by a large venture capital funded startup or a SaaS company to run their customer community.
Circle.so use cases for internet entrepreneurs and creators
A small business owner or creator of an online course, a life coach or business coach, a dance or music instructor, or a consultant in any field can all purchase Circle.so to start their own online community.
3. Who should consider the Circle.so community management platform?
A SaaS company or startup can use Circle.so as their knowledge base, which also helps their customers learn more about the products and services being offered by engaging with each other.
Apart from this, here's why you should consider Circle.so.
1.Membership website.
2.Online course.
3.A community platform to support your podcast.
4.A community to engage with your newsletter subscribers.
It is a circle. can also be used as an alternative to club membership software.
6.Can be used by associations and community-based organizations.
7. Startups and SaaS products can use Circle.so to create customer communities.
8. Life and business coaches can provide a circle. as a result, community as an add-on
4. A Community Software with minimalistic UX Design
What I love about Circle.so community software is it's minimalistic UX design. A SaaS product should be feature rich but also impressive when it comes to design aesthetics. There are options to tweak the frontend design but Circle.so looks amazing by default.
5. Circle.so Mobile App
Circle.so currently supports iOS app which is really awesome. Your community members can have the same experience in using the iOS App as they have on desktop. I hope they also consider releasing android app for Circle.so platform.
6. Configure a Custom Domain Name in Circle.so
Create your online community with your own domain name. It takes only a few simple steps to setup your domain name to launch your online community.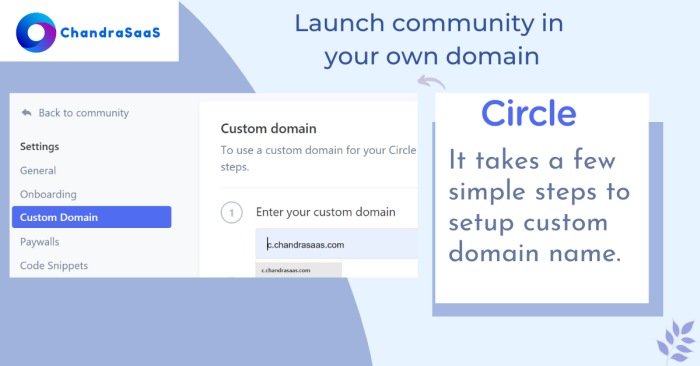 Note that the setup is easy when you use a subdomain to run your online community.
7. A user-friendly login experience
Circle.so offers an elegant login experience. Community software should initially influence a website visitor to actually signup for the community. Circle does this impressively. They also offer a Single Sign-On feature when you use other membership management software. Circle supports Single Sign-On (SSO) via OAuth 2.0.
What's the benefit of Single Sign-On?
SSO enables the integration of login accounts from your own platform.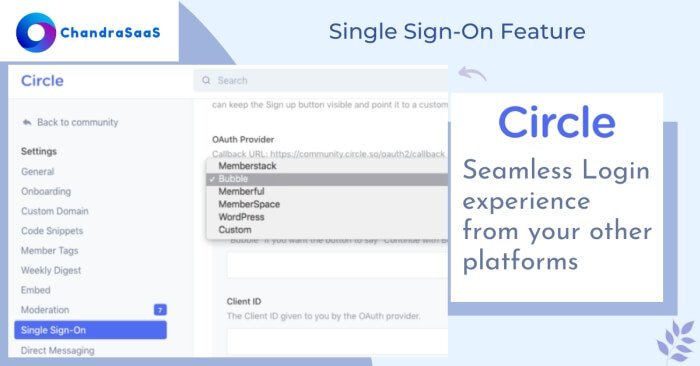 Example: Let's say you already have members registered on your WordPress website or Teachable course management website. Your members can login to Circle. so with their existing user credentials.
8. The ability to organize your forum into categories using spaces.
What are spaces in Circle.so community software?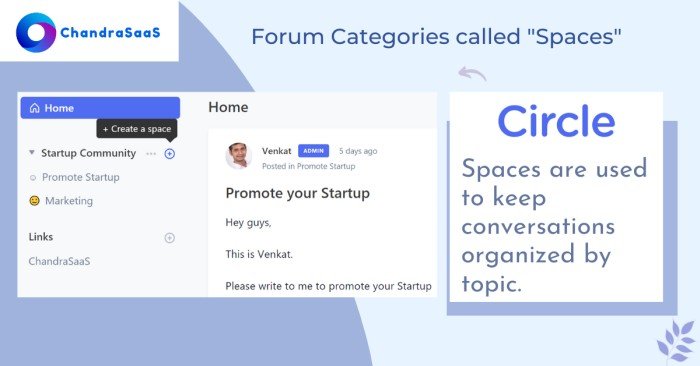 Circle.so offers up-to 10 spaces in their starter package. Spaces are simply forum categories to organize the content and conversations in your online community. It's also easy to edit these spaces, tweak them and change their URL slug.
9. Circle.so Events enables your members to quickly register for your events and webinars.
Managing a community and making it successful and active involves lots of hard work in terms of creating valuable content. Circle.so offers you the ability to embed your live streams on YouTube and Vimeo Pro for your community members. (I have not tried this feature, though).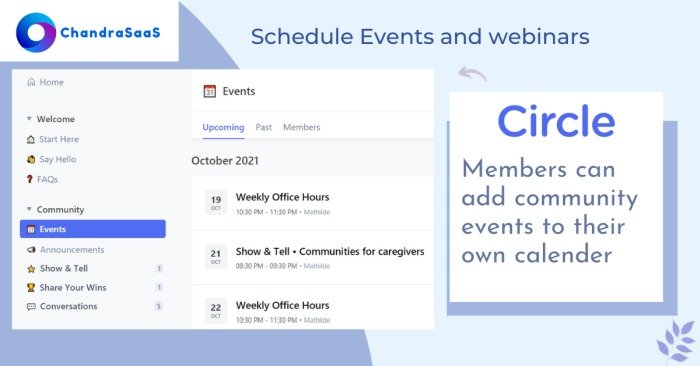 What I know is they have currently released their events feature for beta users. This means, you can list the events or webinars in an exclusive space. Your members can easily signup for the event as it's organized elegantly with date and time.
10. Launch a paid community to earn money from your members.
Circle.so offers a paywall which you can use to make a few spaces or the whole community reserved for paid members. Circle.so can be integrated with Stripe for credit card payment processing from your members.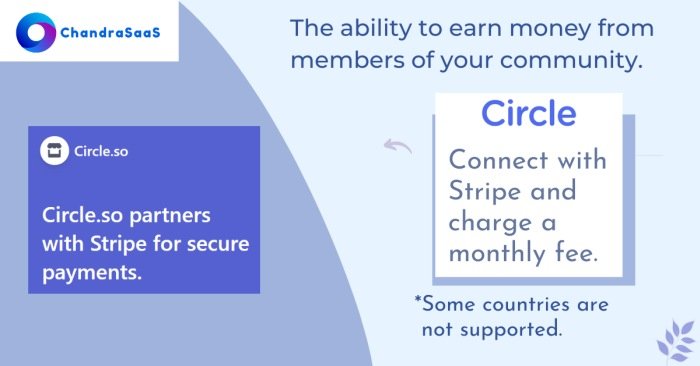 Remember, Stripe does not support collection of platform fees from a few countries. Write to Stripe's customer support to clarify if they support your country. I don't want you to launch an online community desiring to earn money when the payment processor does not support platform fee for your country. Of course, there are always other integrations you can try to charge your members.
11. Circle.so Member Directory:
Circle.so has an amazing tech team and they keep releasing new features. One of them is a member directory. This enables you to find your community members based on the city using the location filter.
You can also look for members based on a specific role or their interests. Note that the member directory is visible by default only to the admin. You can enable or disable the member directory for your community members based on your requirements.
12. Circle.so pricing
As I had mentioned earlier one of the key reasons I love circle and recommend it to you is because of it's affordable starter plan.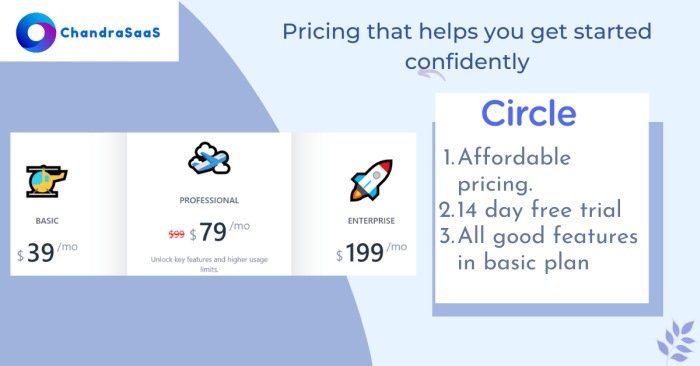 The basic plan offers up to 1,000 members, 10 spaces, Zapier integration and ability to run the community in a custom domain name.
Summary of Circle.so review:
Circle Community management software is one of my favorite community SaaS products. I have tried to launch a couple of online communities that used Circle.so and enjoyed its features. This will be the best community software platform for you to get started with little investment and create an impact through your own online community.
Circle.so review will be frequently updated. I will be happy to guide you in launching your online community.
Circle announced they have launched an events feature for hundreds of communities hosted on their platform. This enables community managers to create online and offline events quickly. They can easily collect RSVPs from members of their community. Circle also enables you to live stream your online events.
More information about Circle.so
Circle.so Headquarters
New York, New York, United States
Founding year: 2020

Circle.so Founders
Sid Yadav, Co-founder and CEO
Andrew Guttormsen, Co-Founder
Rudy Santino, Co-founder
The leadership team at Circle.so
Karthik Ganesh, Chief Of Staff
Circle.so Funding
Total funding: $7.1M
Circle.so Logo

Investors
Notation Capital
BoxGroup
Sahil Lavingia
Ankur Nagpal and more.
Circle.so Alternatives
1. Tribe.so Community Platform
2. Slack
3. Disciple Community Software
4. Hivebrite: All-in-one community management platform
5. Discourse: Open source discussion platform
6. PeerBoard
7. Higher Logic
8. Ning: Social platform