Bettermode Review, Pricing, and Features of this lovely community software platform
What is Bettermode?
Bettermode is one of my favorite SaaS-based online community software platforms, and I highly recommend it. The Toronto-based SaaS startup has built an amazing set of social engagement tools to run a successful online community.
(I removed affiliate link to Bettermode as that never helps me earn after all the hard work. I will only place links for monthly sponsors)
Bettermode Review: Pricing and features of this elegant community software platform
How I solved my client's need for an online community?
For her online course, one of my clients wanted to create an online community. I gave her a few suggestions for solid community platforms.
She was looking for community software that was both feature-rich and cost-effective. Bettermode was recommended to her, and she signed up for a free trial. There's no going back after that.
Using Bettermode's Single Sign-On feature, she was able to integrate with her own platform. The software also comes with a comprehensive knowledge base that answers all of your questions and aids in the smooth development of your community.
What I enjoy about Bettermode personally is the flexibility with which it can be customized. You can even utilize it as a platform for internal knowledge base software for your customers or employees. 
Bettermode Use Cases
What I enjoy about Bettermode personally is the flexibility with which it can be customized. You can even utilize it as a platform for internal knowledge base software for your customers or employees.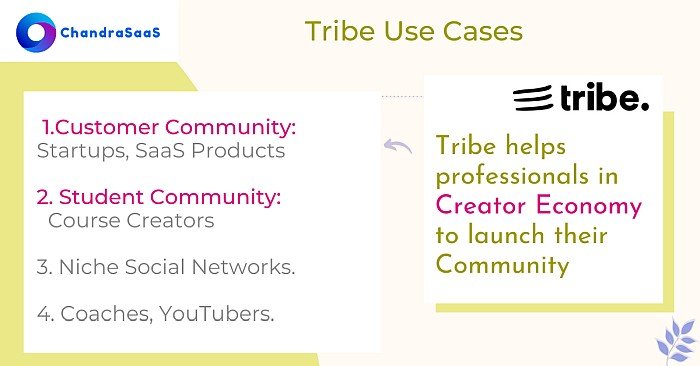 1. Entrepreneurs and members of the creative economy who want to build their own standalone community website.
2. Professionals who want to integrate Tribe into their current products and websites.
3.Online course creators who want to create a community website for their courses.
4. Life coaches and business coaches who want to provide better human interaction for their clients as an add-on to their coaching sessions,
5. SaaS companies can create a customer community using Tribe.so.
6. Bettermode is a fantastic alternative to knowledge base software. Startups can use it to create an internal knowledge base.
7. Anyone who wants to create an online community with elegant engagement tools should certainly try Tribe
8. Social networks that cater to certain niches.
Bettermode Features
1. The ability to customize all aspects of the community platform.
2. Omnichannel notifications
Integrate notifications into slack and other platforms to keep track of what's happening in the community pages.
3. Bettermode is quick to load and simple to use.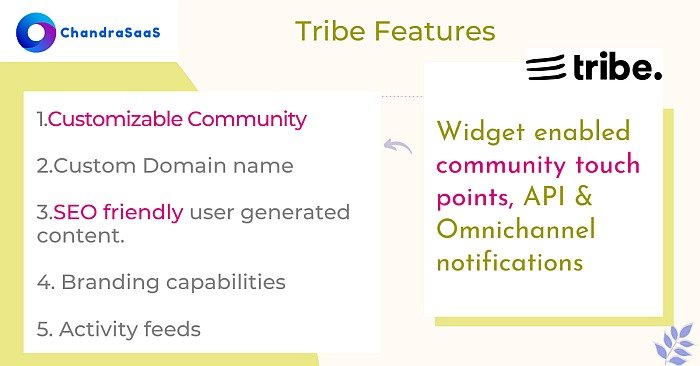 4. Bettermode is flexible and feature-rich, allowing both enterprise customers and professionals in the creator economy to easily build their community.
5. Gamification features
6. The ability to form community groups, also known as sub-communities.
7. Custom Domain Name: Use your own domain name to launch your online community.
8. Widget-enabled community touch points
Create widgets to embed valuable components of the community inside your product or website. The widgets can also be designed to match your branding guidelines.
These features can be utilised by retailers and ecommerce businesses to engage customers and increase customer loyalty.
9. Bettermode API
All of the activities in your community are captured via a comprehensive API, which can be accessed with an API call from Tribe.
10. SEO-friendly pages
A community's biggest advantage is user-generated content. But what I really like about Tribe is that it has built-in SEO best practices such as meta tags, schema markups, etc. to ensure the content ranks high in search engines.
11. Elegant Composer
Believe me. I've used a few community management software solutions, but none of them provide the posting experience that Tribe delivers. You can upload media, mention other members, and embed third-party content using the composer, which is simple to use.
12. Activity feeds
The activity feed provides users with tailored and rich content based on their participation in the spaces and interaction with other members.
Bettermode offers fantastic branding capabilities
I've worked with some community software platforms where changing colors and other design elements requires a lot of effort and little technical knowledge.  You can change the look and feel of your community in real time using Bettermode.
The background color, text color, and header layout can all be changed.
How to use Bettermode to build a customer community?
I strongly advise startups and SaaS companies to use Tribe to build their customer community to hook prospects and customers to their brand. Running a customer community helps your support team because most of the queries or FAQs are easily accessed by new prospects or customers. Hence, your customer service representatives can concentrate on resolving crucial issues.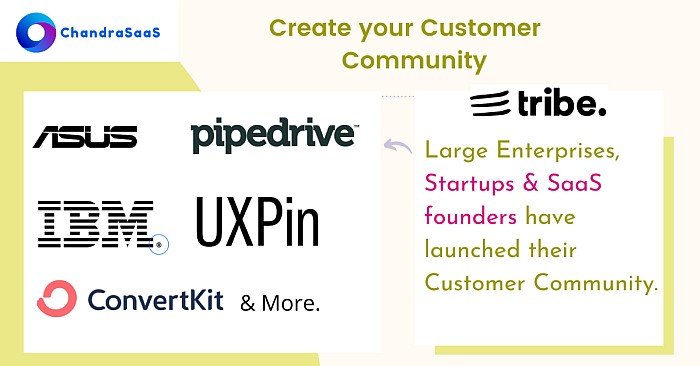 Rather than creating a community centered on your brand, you might focus on the industry in which your prospects are active. For instance, if your product is a SaaS company that sells email marketing software, you can develop a community dedicated solely to designers and authors of newsletters.
Thus, you can create an impact in the industry and naturally attract additional clients.
How secured is Bettermode?
Tribe protects the data of tens of thousands of its customers and end users. SSL encryption, data integrity, and systematic audits are all included.
Bettermode Pricing
Bettermode is reasonably priced. It's neither too cheap nor too expensive to get started. If you already have a business in place, then, certainly you can manage to launch your online community using Tribe platform.
| Basic:$0 | Advanced: $599/month |
| --- | --- |
| | |
| Unlimited spaces | Goodness of Plus, and: |
| Basic apps | Premium apps |
| Theme customization | Single Sign-On (SSO) |
| Custom domain | White-label |
| Community support | Customer success manager |
Bettermode review conclusion
I personally believe Bettermode is run by an amazing leadership team. They also have good customer support in place. I spent 2-3 days writing this review of the Bettermode community software platform because I believe in this product. So, give it a try. 
Please sign up with the below link. It would be great support!
Bettermode Updates
1.Bettermode integration
Bettermode has announced integration with Amplitude Analytics to track metrics for your online community.
This aids in the analysis of data about active users, the measurement of community member loyalty and retention, and the creation of activation funnels depending on member actions.
Bettermode Founders
Mohsen Malayeri, Co-founder
Siavash Mahmoudian, Co-founder
Soheil Alavi, Co-founder
Bettermode Headquarters
Toronto, Ontario, Canada
Bettermode Acquisitions:
Tribe community platform acquired pe.ple.
Bettermode unding: $ 7.5M
Bettermode investors
Inovia Capital
Bessemer Venture Partners
Golden Ventures
CRV
Path Ventures
Next Canada
Bettermode Support
One of the best things about Tribe is that they have very good customer support and also an exclusive online community called Tribe Campfire where you can clarify your questions regarding the product.
Bettermode Alternatives
Higher Logic Online Community
Flarum
InSided Online Community Platform
Mighty Networks
Discourse
Bloomfire
Ning
Please contact me if you require assistance in choosing an online community software platform.
Venkat